Books and bikinis in November…well why not.
For San Diego, it only just got cold about four days ago. And there are some killer bikini deals and fresh resort prints to be had so it seems appropriate. Plus M and I are counting down the days till we go off the grid to Mexico so I'm keeping my eye out for gems of the aquatic and literary kind.
Here's the round up of what I've been reading…
Sometimes you're just in the mood for a certain type of story and Before We Were Yours by Lisa Wingate caught me at the right time. The story switches back and forth between the 1939 and present day and is based on a real life scandal of children being abducted from their homes and adopted out to rich families across the US for profit. I had no idea this existed so it was really interesting to research a bit when I finished the book. The characters were lovely and I was rooting for everybody. It's sad in points, but not overly so and the ending was satisfying. Definitely a solid beach or weekend read!
The Couple Next Door by Shari Lapone – I power read this on Sunday for my book club. It is suspenseful and you can blow through it quickly. The plot centers around a couple who goes to dinner at their friend's house next door and leaves their 6 month old baby at home – she gets kidnapped (or worse) and the mystery unfolds from there. If you don't read a lot, or if you have a long flight, this will keep you entertained for a few hours. But unlike BWWY, none of the characters were likable. I didn't care what happened to any of them because they were all pretty self involved, spoiled humans (except for the 6 mo old!). The twist at the very end  isn't really guessable so that takes a bit of the fun out of it. But maybe I'm being too harsh – everyone else loved it! If you read it, let me know what you think.
Sourdough by Robin Sloan is fun, quirky and different from anything else I've read. It's the story of a software engineer, Lois, who inherits a sourdough starter when her favorite to go restaurant founders have to leave the country due to visa issues. Up until then, her life is pretty drab – she makes a ton of money but works all the time. Once she starts baking cool things start to happen. Another one that if you're in the right mood you'll love it. And yes, I got inspired and now have a sourdough starter in a jam jar in my kitchen cabinet. Will keep you posted on how it turns out!
Manhattan Beach by Jennifer Egan. Not gonna lie folks, from the title and the cover, I thought this was going to be a saucy beach read set in my old hood (the South Bay of Los Angeles), but nope. Lucky for me it was better. Set in the 1930s and 1940s in NYC and Manhattan Beach -Brooklyn (oooooh), the main character, Anna, is awesome. She's brave, resourceful and a bit of a trailblazer (working as a diver at the Brooklyn Naval yard). The novel is meandering in a good way and again, I learned some really cool things about women in the work force during WWII. There is a good mystery and lots of back and forth flashbacks between characters. Highly recommend!
On deck next:
The Rules of Magic by Alice Hoffman (prequel to Practical Magic – it's kind of ridiculous how excited I am to read this – #magicnerd)
A Visit from the Goon Squad by Jennifer Egan – after reading Manhattan Beach, I'm down for more and this one won a Pulitzer prize
Proof that just because you read a lot doesn't mean you're great at being in a book club! A little glimpse at one of our book club fails…but we had fun!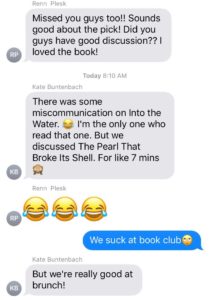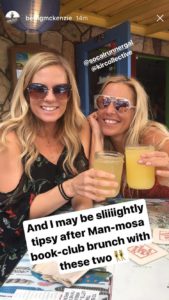 Since this is already a bit on the long side, I'm going to keep it to the brand, the style and the color I'm coveting most for my next trip south of the border!
I want this! And it's on sale here and  here…Issa De Mar nailed it with this Copper color. You could line 10 girls up from super fair to super dark and everyone would have a shot at looking good in this gorgeous slightly metallic number. The Poema top has thicker straps on top (giving the girls a little lift) and then a super sexy, clean back. The bottoms are basic and low (Because I just can't get on board with the super high rise cut yet…maybe next year? maybe never?) with just the right amount of cheekiness.
Bikini buying tip…everything looks amazing on the Revolve models so go there to swoon and then visit Zappos/6pm for a more realistic view of what it will look like. Or a quick search on google images also helps get a better perspective. Not to say the Zappos girls aren't gorgeous, but as a rule they tend to use a slightly (even if only slightly) more realistic representation. If the brand is well known like LSpace or Mikoh, a hashtag search of the brand or the specific style will give you ideas too!
Are you still with me? Wow, trooper! Thanks for reading. Hope you like the books. And definitely go check out the Issa bikini…I think you'll love it! Until next time xx